I received an email late yesterday reading "tip me off", which I took to mean, "what openings do you recommend?" I suppose the reader could have been asking for virtually anything, but making the convenient assumption that he requested a post I intended to write all along, here are a few of my top picks for this week.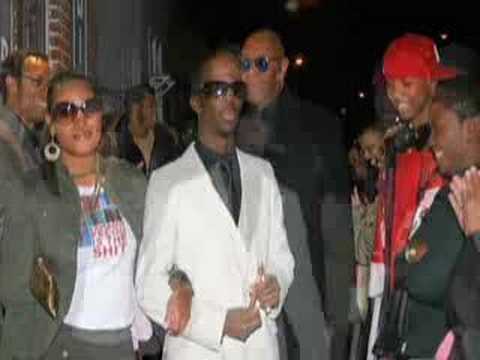 Fahamu Pecou, Instant Celebrity: The Rise of an Urban Legend
Now living at 171 Seventh Avenue, (at 20th street), Lyons Wyers Ortt hosts Fahamu Pecou's Born inFamous. The hilarious video opens with a "arty" grainy shot of Pecou, cues some jazzy documentary music, and switches to a scene featuring Pecou sucking his thumb and holding his blackberry. The next thing you see is the blinged out text on one of his paintings behind him that reads "The Shit". Rather than spoil the movie by retelling it badly, I'll leave you to watch the excerpt, and note that this, in conjunction with a Cabinet poster image, make Born inFamous my top pick for the week. (Opens Friday)
Larry Clark, Image copyright Luhring Augustine
This is a bit of a no-brainer, but Luhring Augustine opens a Larry Clark exhibition this Friday that I'm betting will be worth seeing. Responsible for shooting the best known photograph of actor Chloe Sevigny on the set of Kids, Clark firmly cemented her role as the STD girl in films for years after the fact. This isn't the only reason I want to see the show, but it's certainly a big part of it.
Peter Schuyff, clown, 2007, oil on found painting, 18 x 14.5 inches. Image copyright Nicole Klagsbrun
I'm evaluating jpegs here, but Peter Schuyff at Nicole Klagsbrun looks like a great bet. I don't want to pretend like Schuyff is reinventing the wheel – I've seen quite a bit in the way of oil on found paintings over the last couple of years – but certainly does it better than anyone else I've seen. His success lies in two parts; one, he choses really great paintings to alter – yes, thank God, someone is addressing the shortage of clown representation in Chelsea, and two, his oil abstractions are unique and genuinely add to what is already there. This show opens Thursday.
I have a number of the other recommendations for the week, but in effort to make posts such as this readable I will be breaking them up over the next day or two. Which is to say, more later.