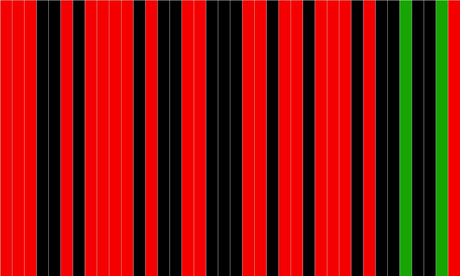 Keith Tyson, December, Broadway, Westminster, London, 2008
Are Keith Tyson's Internet prints consisting of randomly generated, roulette wheel paletted, vertical stripes as interesting as his History Paintings?  The latter works were also done in stripes of red, black and green, with the arrangement of colors dictated by spins of the roulette wheel.  Then they were given titles relating to years of political upheaval and places famous for their casinos.  Comparatively, the prints were also given titles, this time based on the recipient's geographic location, (5,000 were given away online in early December through the Guardian).
I've seen neither the prints nor the paintings in person, but the methods determining the paintings seem a lot more engaging.  I rather like that the human hand has to be employed in the use of the roulette wheel, and that a connection is drawn between the gambles made during war, and those in gaming.  It all suggests an uniquely human role in the making of chance.   The Internet version removes a lot of that interest:  A computer program using the roulette wheel numbers as its basis randomly determines the arrangement the casino stripes, and the geographic location of the user may offer a small amount of interest to the print recipient, but certainly won't offer any surprises.  But for the fact that this work was conceived by a Turner Prize winner there's not enough in this series to warrant too much discussion.
Not that that's stopped the Guardian.  Charlotte Higgins sees this work as highlighting the how little mainstream artists have attempted to harness the Internet, though no explanation is given as to what aspect of this piece past its existence, does the highlighting.  The standard young artists have never known a time without the Internet statement is then issued without any attempt to discuss how this effects artistic production and the democratizing nature of the web is noted as though it were more than the half truth the statement actually represents.
Though the second half of the article is written as though it were 2005, Will Gompertz, director of Tate Media issues the following meaty quote on the web, worth remark, "It's not just about sticking something up. You actually have to understand the vernacular of the web, you have to build a following. Doing that actually takes a certain amount of dedication."  Indeed.  So, has Keith Tyson's investment lead to a deep understanding of web vernacular?   It's too soon to tell, but I'm not yet impressed.