POST BY ANNE JOHNSON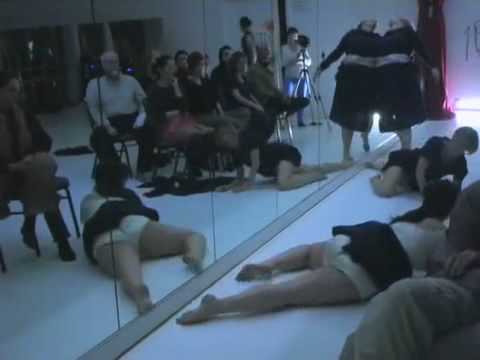 Sublime Is Us, Luciana Achugar's last piece, a collaboration with Michael Mahalchick.
Is it Halloween already? No, it's just time for a spooky perfomance piece like choreographer Luciana Achugar's "Puro Deseo". Inspired by the monsters of Gothic film and literature (think Frankenstein and vampires), Achugar will perform inside a black box-like space aiming to evoke the same sublimity and mystery of the paranormal in this mix of sound, light, and movement.
With long-time collaborator and AFC IMG MGMT contributor Michael Mahalchick, the two artists bring together his fragmented form and her emphasis on the primal, human element of dance in this new piece at The Kitchen next weekend.
In an interview with Encore Magazine, Achugar says,
"I hope to convey a sense of mystery during the moment of the performance that will make them aware of their expectations as a viewer, but that will also deliver a questioning of what is a mystery in their own experience of life through their bodies. I hope to make them feel transformed in some way in their guts and in their thinking, and in how those relate."
In the mood to be transformed? Mark your calendar.
WHERE: The Kitchen, 512 West 19th Street
WHEN: Thursday-Saturday, April 29-May 1, 8pm; Sunday, May 2, 5pm