POST BY PADDY JOHNSON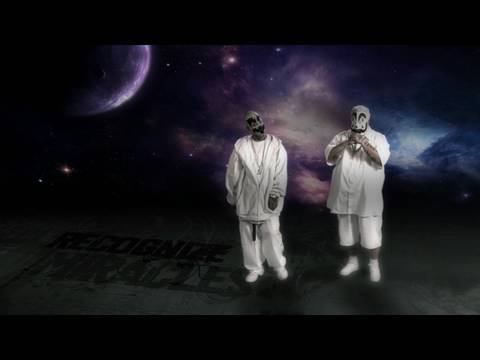 "Fucking Magnets, How do they work?" Also: screw science. The former is a direct quote from the song Miracles [above], by clown rappers, Insane Clown Posse, the latter is simply paraphrasing. Not surprisingly the song has become such an Internet sensation, The New York Times artsbeat blog has a nearly 3,000 word Oral History of Insane Clown Posse Parodies on their front page today.
It's a little much to slog through if you aren't either already familiar with the phenomenon — follow the video links and visit Know Your Meme or the commentary will be especially boring — but otherwise it's worth the time. In particular, the discussion on Miracles is pretty choice:
Violent J: They're not all miracles, typically. I mean, a rainbow can be explained. But who doesn't say, "Wow, look at the rainbow?"

Shaggy 2 Dope: If Celine Dion would have come out with that song, people would have been, like, "Oh, that's a beautiful song." But because it's coming out of our mouths, all of a sudden, we're retards.
And later continuing along the same lines,
Violent J: I know the stuff isn't really miracles. I think we might have misused the word miracle. I think that might mean something that has happened with no explanation. These things we mentioned in the song, they can all be explained. But what we're doing is appreciating them. Even the infamous line, "Magnets, how do they work?" I mean, yeah, we know how magnets work. But they're still incredible. You can push something across the table without touching it. And as a kid, I found that fascinating. I still find that fascinating.

Shaggy 2 Dope: Come on, a rock that pulls metal towards it or pushes it away? Yeah, it has to do with the magnetic polar caps and [stuff]. But for real? Come on, man. You're just holding a U-shaped thing that pushes metal away or attracts metal or something. The North and South Pole makes a rock magnetic, and if you touch a piece of metal with it, that becomes magnetic? That's crazy.

Violent J: I grew up in Detroit. We don't have pelicans on every corner. We don't have giraffes walking down the street. Anybody ever stood next to a giraffe, tell me that's not a miracle? This thing that's yellow and polka-dotted, spotted, it has a dinosaur neck? If you look at a giraffe and think, "Well, they've been here for millions of years, no big deal," that's your loss, man. I feel bad for anybody that's numb to all that.

Shaggy 2 Dope: At the Detroit Zoo now, you can feed the giraffes. Last week, I took my kids and a friend to the zoo, and it wasn't open. I was like, man, I want to feed a giraffe. Getting that close to some crazy-looking animal that only lives in Africa and Detroit? It's not every day you just get to marinate with a giraffe, man.
Naturally Metafilter has some amusing commentary, though I took special pleasure this bit of enjoyable snark directed towards Canada's national shame:
Shaggy 2 Dope and commentor DU are clearly not aware of Dion's 2004 video collaboration with baby photographer Ann Geddes titled "miracles". The segment where you can see a small child imprinted under Dion's dress? Totally CREEPY.