POST BY DAVID HARPER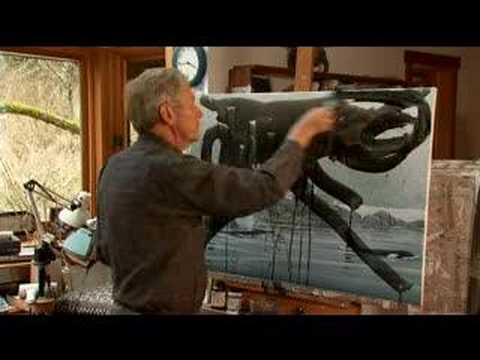 This disastrous BP oil spill got me thinking about artists who create work about environmental concerns. Canadian photographer and environmentalist Edward Burtynsky first came to mind; his exhibition, titled "Oil" at Hasted Hunt Kraeutler in Chelsea last fall, a press magnet. Then there's Andrei Molodkin, a Russian conceptual artist who uses oil as one of his primary mediums (along with blood and ink) but less as a critique of industry and more of humanity.
But none of these matches this week's Best Link Ever, Robert Bateman, in poignancy, cheesiness and earnest YouTubery. A wildlife artist and environmentalist, whose mass produced prints are likely familiar to many, the artist writes on his website, "I can't conceive of anything more varied and rich and handsome than planet earth." Paddy says he's really famous in Canada.
Of course, Bateman's work is not my bag in spite of his skill. It's beyond pedestrian — somewhere between a Bob Ross, a Thomas Kinkade (now bankrupt), and the t-shirt wolves howling at the moon. However, there is something about this clip that I found strangely moving. Smearing on crude-black paint, the artist destroys his own work and declares it "not a pretty picture." Now, despite the fact that personally I tend to prefer the resultant work over the original (just not a fan of orcas) the artist's act, while comical, just doesn't seem as funny as it would have a month ago.
David Harper maintains Art Fag City's Best Link Ever! column, and is the blog's Curatorial Fellow. Harper is the Visual Arts Curator for The Brooklyn Academy of Music.