2007 brought all kinds of fine tidings via the Internet, so we'd like to take a moment to reflect on some our favorites. Below are our top ten web hits of 2007.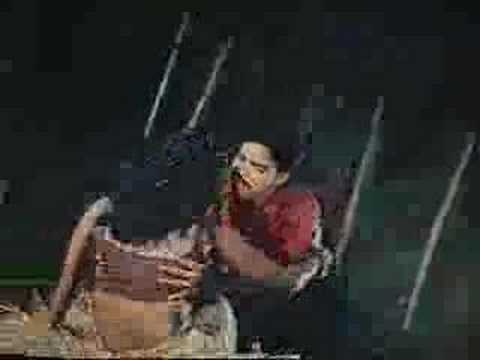 10. Making Vindaloo.
Is dry humping was work safe? Ask yourself this question prior to playing this fantastic Bollywood soft core porn. Found via Fleshbot earlier this year, not much more needs to be said on the subject of this truly fascinating video.

9. I CAN HAZ SEDUCSHUNZ SENSUAL? LOLcats vrs Snoop Dogg.
We couldn't decide whether various LOLcat sites or Snoop Dogg's latest video should take the number 9 spot so we chose both. As far as we're aware, no mash up video of the two exists, but we all know it's only a matter time before everything on the web becomes lolinized.

Nearing his third blogging year dealer Edward Winkleman writes consistently useful posts on an array of art related news. Probably an obvious pick to those who follow art blogs, Winkleman's posts devotes a lot of time and resources to emerging artists while also covering main stream art news items.
Using delicious, a web application that creates a public record of your bookmarks, WIZARDISHUNGRY posted more great Internet finds than I could keep up with last year. A few of my favorites include the gif above, and via the best of craigslist: Let us Frolic in My Totally Dope Blanket Fort.
6. Paris Hilton Facebook Application

A model of simple elegance, this facebook application provides up to the minute updates on whether Paris is in jail. In light of her now assumed freedom status, about once every month or two the application lets us know how she's doing. This month she's been very very thirsty.
5. 20 x 200
Hurray for Fine Art (ie NOT illustration) you can actually afford! There's a lot more around with Jen Bekman's 20 x 200. 20 bucks for a print, shipping to Canada and the UK, and art we actually like. Not all of it mind you — like any site it has its ups and downs, but there's certainly enough to satisfy even the most scrutinizing eye more than once. Our one wish: Series prints! Why have one 8 x 11 over your couch when you can have 4?
Olia Lialina describes the state of web 2.0 through a survey and investigation of blogs, myspace profiles, translucency, cats and glitter. The paper makes what might appear to be a lot of obvious observations about current web aesthetics, except that most of us never think to reflect on what we use. For this reason, I found her thoughts very illuminating.
3. ArtCal and Rhizome redesign
As a contributing editor to ArtCal I may not be the most unbiased person on this subject, but I happen to think, the redesign goes a long way in introducing people to emerging artists. It's clean and simple event listings, and newly launched zine are amongst the most comprehensive art websites today. Likewise, Rhizome's stunning redesign keeps members and readers alike a breast of new media artists, happenings and news with great efficiency.
2. ArtReview
ArtReview goes totally 2.0 with their expanded website. Blogs, social networking, videos…the site has everything! Except a preselected news mailer from their own site. I guess no one's perfect.
1. Carlo Zanni's The Possible Ties Between Illness and Success.
At The Reeler I predicted Meme Romanticism would be the best show of the year, and while I haven't drawn that list up yet, Carlo Zanni easily tops our best of the web list. This marks the second year in a row, that a web based work about death and web traffic bests all others (Arcangel's Punk Rock 101 was last years pick.) , which might indicate editorial bias, though my feeling is that both pieces are simply quite strong. Rather than rehash my own words, I've provided my Reeler summation below:
"It's not a matter of accepting death — it's just a word," the narrator tells us, drawing from the last page of John Haskell's 2004 novel American Purgatorio. The film pictures a man covered in spots, presumably on his death bed, as the narration continues: "It doesn't happen like that. 'Accepting' is a word in a dictionary, and what happens isn't a word — just like clouds aren't words, or the man driving by with his arms out the window isn't a word. But they happen. They all happen and then they're gone."

I suppose only the nerdiest of Internet users read these words and immediately relate them to hit counts or other Web metrics, but Zanni takes this a step further by setting up a program using Google analytics to create more or fewer spots on the ailing man's body contingent on the amount of visitors to the film's Web site. Probably my favorite aspect of this piece lies in the premise that a good idea might kill a man, though it speaks on many more levels as well, underscoring and ultimately literalizing the viral nature of Web traffic and the fragility of success.
BONUS. A year in the Internet 2006 Published in 2007 this jewel introduced me to paper toilet, Yellow Magic Orchestra videos on Youtube, and Bass Hunter's Boten Ana. If you haven't seen this page already, it's a must read!

Related: The Best of the Web 2006