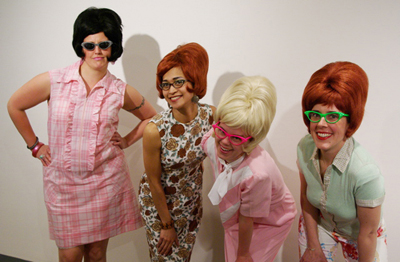 Brainstormers at the Brooklyn Museum. Image via: elainekaufmann.net
While art critic Jerry Saltz was tallying up the number of women exhibited on the fourth and fifth floors of MoMA, the feminist collective Brainstormers was doing its own extensive calculations. In addition to its ongoing research (including, but not limited to, a map of Chelsea galleries color-coded by the percentage of female artists represented and a gender breakdown of recent MFA graduates to put the numbers in context), the collective is exhibiting a new work at the Lesbian, Gay, Bisexual and Transgender Center.
Summarized in a recent profile in the NYFA Current, the work, titled "May I Please Have A Sip of Your Power?," is a sound installation that features pointed questions politely asked by a computerized voice through a pair of speakers. The piece is part of the exhibition Then and Now, a group show of site-specific work paying tribute to the 40th anniversary of the Stonewall riots. The questions include the timely "Do you think you could scoot over so that I can access some healthcare?" and the more general "Would you please donate some of your control? It's tax deductible." The Current quotes collective Co-Founder Danielle Mysliwiec:
We wanted to couch subversive, confrontational questions in the kind of super-polite language that you would find in an etiquette book, in order to contrast and critique the way feminists have historically been portrayed as bitchy, aggressive, and whiney.
This "kill 'em with politeness" tactic is a familiar one for the Brainstormers. In a 2007 performance at the Brooklyn Museum's Sackler Center for Feminist Art, Have You Seen or Herd?, performers dressed up as beehive-clad 60s hostesses and politely demonstrated potential reactions to art world gender inequality. But this time, the ladies are applying the same method to a broader list of concerns.
Instead of limiting ourselves to polite maxims, AFC thought it would be nice to compose our own kind requests in an old timey piece of snail mail. Read the missive below.
Dearest dudes,

You know that relationship cliché about how men are oblivious, and don't pay attention to their girlfriends unless sex is involved? Well, that behavior is affecting our careers!  Wake up!

All the best,

AFC