POST BY PADDY JOHNSON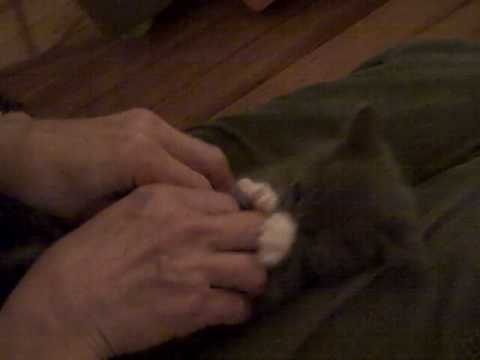 Last week at SVA, scholar and critic Boris Groys discussed the difference between what he calls "strong" and "weak" images. According to my and Tom Moody's combined notes, those in the former category have many spectators, while the latter have few. The avant-garde, as Groys defines it, "isn't about change, but creating weak transcendental repetitive patterns that allow others to recognize and decode images (Kandinsky shows painting is just shapes and colors). These perceptions transcend their time period." (Paraphrased by Tom Moody)
That's all well and good, but where does it leave "surprised kitten" ? This home-made video offers the repetitive patterns Groys attaches to weak gestures, and yet, it has reached over 18 million viewers. It may lack a certain mystical quality attached to the fine arts, but as far as kitten images go, it's well above average.
Clearly, the video is impossible to label as either "strong" or "weak," which makes me think Groys' distinctions might be meaningless. Even trying to separate the two types of images on the basis of economic force doesn't seem to make much sense. Sure, there's a lot of money behind the strong images Hollywood produces, but Google's making a killing off all those weak images we're uploading — a leveling force to be sure.
It's tempting to ask if fine art avant-garde can be defined in a culture of ubiquitous imagery. Certainly, now that the Boris Groys lecture afterglow has dimmed, I'm pretty sure it's not just "a transcendental, weak gesture". But perhaps these definitions don't have to be quite so complex. To my mind, the avant-garde is simply that which rebukes the constant rise of mediocrity.