Forget in Ten Parts is a ten-part weekly series by AFC's Curatorial Fellow, Guy Forget, focusing on the aesthetics of impermanence. This week, Forget presents four videos with made-up make-up themes, including two from Kelly Shimoda's ongoing series, "Women Putting on Makeup" (2010-).
1. In the last few months artist/photographer Kelly Shimoda has been busy documenting women putting on make-up. As she puts it, the project is "a formal documentation" of a typically female ritual, the "transformation from private face to public." One of the most interesting qualities of these videos is how personal they are and I don't want to ruin that with my commentary. I'll only say that there are some obvious themes: voyeurism, gender expectations, routines and impermanence. "June" and "Erin" are both from 2010.
2. The bathroom scene from Jean-Luc Godard's Masculin Féminin (1966). One of my favorite film sequences. (Click image for YouTube video.)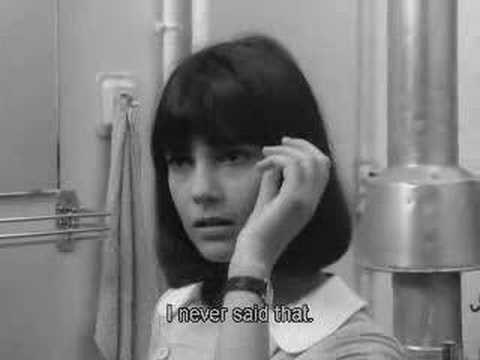 3. Bonus short: "I'm better than you" (2009). Concept and video by Anthony Fuller. Starring Guy Forget as Kent McGuinness. A collaboration in the height of our frenetic quest for Facebook content.