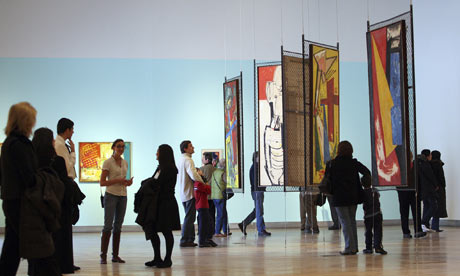 Funding crisis … Visitors tour the Rose Art Museum at Brandeis University, Massachusetts, January 2009. Photograph: Essdras M Suarez/AP
I wrote a piece for The Guardian on The Rose Museum. The teaser below.
Facing what has been described as a potential $79m (£52.5m) deficit over the next six years, a dwindling endowment and a near-exhausted reserve fund, Brandeis University in Massachusetts announced earlier this year that it had no other choice but to close its prestigious Rose Art Museum and sell the 8,000-piece collection. Prior to releasing the statement, it made a last-ditch effort to solicit funds from donors, but many had lost money in the Madoff Ponzi scheme, and the university came to the conclusion that it was out of options.

Economic hardship or not, this didn't go down well within the art world. For one, these were not the financial problems of the museum — which is largely self-sufficient — but those of the university. Secondly, the loss would simply be too great. Established in 1961, the museum's world-renowned collection includes early works by masters such as Jasper Johns, Robert Rauschenberg and Roy Lichtenstein. It also has a long history of hosting extremely significant exhibitions, from Joseph Cornell's solo show at the Rose in 1968 to Dana Schutz's first solo show in 2006, which ran concurrently with a Matthew Barney exhibition.
To read the full piece, click here.