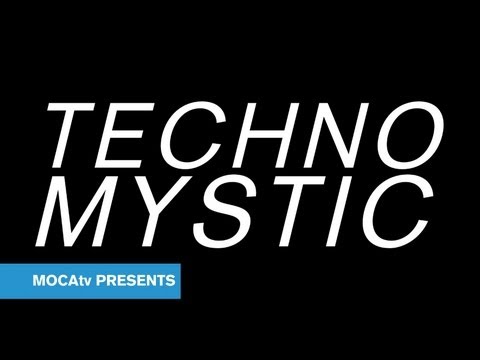 A little curation on YouTube can go a long way. On its own, YouTube contains a vast treasure trove of videos (a blessing), but navigating all those choices can be overwhelming (a curse). As such, we were excited to hear that MOCAtv premiered its first YouTube exhibition, Techno Mystic last Friday. Organized by independent curator Michael Connor, the playlist culls together videos by Sam Fleischner, Seth Price, Shana Moulton, Deborah Stratman, and Apichatpong Weerasethakul, all artists interested, to some degree, in breathing spiritual life into the digital. It's a pretty good exhibition, and it shows that we've come a long way from thinking of technology as scary and giving way to future shock.
Look no further than Second Life to see just how spiritual the Internet can be. Two videos by Jon Rafman make appearances in the playlist, and both show his current interest in combining lonely Second Life landscapes with Modernist poetry set to drone music (by Brooklyn's experimental musician Oneohtrix Point Never). King of the Rain-Country makes its debut with this exhibition, and it's a solitary stroll through a landscape of medieval castles with long, dark corridors and forests full of near-blinding light. It's spiritual, or mystic, in only the loosest sense possible: although the rendered landscape has Game of Thrones written all over it, it looks like nothing seen on earth, like a paradise lost. There's nothing terribly deep about that journey, but the constant movement of camera is both mediative and entrancing.
While Rafman's King of the Rain-Country brings out the loneliness of digital interiors, Thai filmmaker Apichatpong Weerasethakul's short film THE ANTHEM: Certified for all Theaters deals with spirituality as an exercise in community building. In the film, two elderly women sit, drinking tea while playing the new "cinema anthem". They imagine entire auditoriums full of people who can rid themselves of bad energy after hearing the song; in their words, nobody wants to be a "sour mango." Weerasethakul writes separately that in Thailand, the Royal Anthem plays before every movie as a blessing for the King. Wouldn't it be great to make a "Cinema Anthem" to bless the upcoming feature? Ta-da! Weerasethakul made an anthem, and it's this film. Most Westerners won't know enough about Thailand to get this from watching the piece—a weakness for sure—but once a viewer understands the conceit there is a certain lyricism to it.
Deborah Stratman's video It Will Die Out in the Mind laments the dreariness of contemporary life when based on science. Against a darkened screen, text fades in-and-out: "My dear, the world is unbearably boring?". It flickers before fading into the response: "Don't count on it. There's no telepathy, no ghosts." Before long we're looking at numbers and equations. The problem, as Stratman alludes to, is the lack of enjoyment in a world without mystery. We don't have the Bermuda Triangle; we have Pascal's Triangle.
In any case, not all the videos are as good as those three. I'm not really sure what Sam Fleischner's Surfer's Hymn is doing in this playlist; it's a music video for Panda Bear that shows guys in skeleton costumes riding surfboards, which is tediously cheesy. Then there's Seth Price's simple ghost story video, a Brothers Grimm-like tale that casts an evil old woman who wants to eat a little girl along side a talking bird who gives advice. Price's video is creepy, but has little to nothing to do with technology, making it an uneasy fit for the show.
Despite a few lemons, Techno Mystic drives home the point that artists using technology see it as an uplifting source. Call this impulse spiritual, otherworldly, or mystic; whatever it is, it's a far cry from grim, dystopian aesthetics.