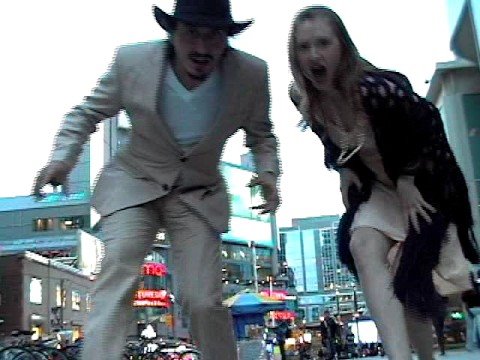 Hooded Fang, No One Dances Like Michael Ondaatje, 2008
"I think when ordinary working people come home, turn on the TV and see a gala of a bunch of people, you know, at a rich gala all subsidized by taxpayers claiming their subsidies aren't high enough when they know those subsidies have actually gone up – I'm not sure that's something that resonates with ordinary people" Canadian Prime Minister Steven Harper on the campaign trail in Saskatoon.
Art Fag City regular readers will know I haven't been overly fond of the newly re-elected Canadian prime minister Steven Harper's poorly considered statements on the arts or his planned funding cuts.  Given that I'll be going to a number of art galas tonight (read: opening receptions) I thought it only appropriate to post the above video detailing Canadian art events unlikely to occur in America because the galleries here clearly lack the government funding to indulge in such excess.  A few choice quotes from the video and selected openings below.  Via:SS
There are shrimp platters fucking everywhere….Alice Munro is getting a tatoo, it's either a hammer and sickle or a middle finger, I can't quite make it out….People are making toasts to homosexuality!  Now someone's taking off someone's vegan leather pants….Are you coming to the after party?  We're taking a jet to Stockholm to see this band with an obscene name.
DON'T MISS THESE GALAS!
The New York Art Book Fair's description pulled directly from their website: "Printed Matter's annual fair of contemporary art books, art catalogs, artists' books, art periodicals, and 'zines offered for sale by over 140 international publishers, booksellers, and antiquarian dealers. Admission to the fair is FREE."  Except for tonight's benefit preview, which will cost you 20 bucks (6pm-9pm).  In exchange visitors support the fair, and get to see a Jonathan Monk performance.   Other free goodies include a Gary Panter book signing at noon Friday, artists Fia Backstrom, Andrew Dadson, Matthew Higgs, Colter Jacobsen, and Frances Stark sign their 5-poster edition (Fillip), Saturday at 1 pm, and Matt Keegan launches his new book AMERICAMERICA Sunday at 3 pm.
More or less recapping what's already in my Fresh Links, Slick Art Fair Paris, at Virgil de Voldere Gallery finds recommendation on this blog twice this week UPDATE:  Looks like this was actually an art fair in Paris.  If you happen to be in Paris…check it out!  The nod isn't based on much more than an interest the work of Brody Condon; I dismissed KarmaPhysics<Elvis, 2004, as overly reliant on nostalgia when I first saw it, yet now find that assessment premature, as I continue to find its creepiness disturbing.   In his newer work, Death Animations, 2008,

9 dancers in "fanstay armour" recreat Bruce Nauman performance

Tony Sinking into the Floor, Face Up and Face Down

in slow motion.  Based on computer game death animation movement, Condon describes this re-interpretation as

"through the lens of "New Age" ideas of astral projection and out of body experience, computer games, and recent foreign conflict."

  As it turns out other artists are in the show too.  They include Nancy Brooks Brody, Nina Bovasso, Markus Hansen, Nicolas Touron.  Also don't miss painter Lisa Sanditz' Sock City at CRG.  Her last solo show was great.
Film Art Function, Silent Auction and Gala Benefit, Galapagos Art Space.  "All proceeds benefit "Under the Bridges", One Glass Productions documentary series profiling the evolution of the [Galapagos?] community."  I've listed this event primarily because the press release used the word gala.   Artists include: Michael Ricardo Andreev, Mark Wiener, Linda DiGusta, Barbara Hammer, Guy Stanley Philoche and more.
After party listening?  Our favorite music critic Christopher Weingarten suggests taking Tobacco over Fujiya & Miyagi because "Brighton whisper-crooners Fujiya & Miyagi (9pm) take the most well-worn krautrock tropes and the least interesting parts of Clinic and turn it into a cold, mildly danceable shrug about dishwashers and encyclopedias and stuff—the type of art-damaged band who would have a name no one can remember and then put it in a song anyway." By the way, it's CMJ Music Marathon and Film Festival time here in NYC.
Unrelated: My mother phoned me this morning to inform that Eric Fischl is indeed relevant.   Apparently he gave a very impressive interview on CBC radio yesterday.