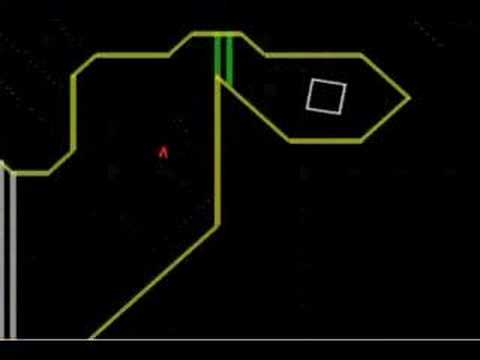 Commenters over at TIGforum aren't buying New York Times reporter Carol Vogel's take on Flywrench, a video game made by Mark Essen. The youngest exhibitor in the New Museum's emerging artist triennial, Younger Than Jesus, Essen's game is about "getting to the square". The first comment in a priceless thread responding to Vogel's piece.
I really like Flywrench and I like Mark Essen, but somehow I find this a little ridiculous:

The images in Flywrench are reminiscent of the grid-based canvases that brought the painter Peter Halley to attention in the 1980s.

Come on? Really?
Notably, had the Times linked to Peter Halley's paintings I doubt this comment would exist.  At least a few of his early works unarguably share a formal relationship with game.  That said, flywrench likely took its aesthetic queues from NetHack, an ascii generated video game first released in 1987.   Speaking to this concern other commenters respond;
fish: ….im all for the new arcade.
but displaying a game in a gallery dosent make it make it incredible art. couldnt it be displayed for its design qualities? for the sake of making new types of games for people to play together in public places? that's what's cool about what essen does. using colors and shapes in his game dosent make him the new mondrian.

toastie:

I think the problem that I have with these kind of things is that, in spite of the vague and uninformed accolades lavished upon what seems to be an arbitrarily chosen (no offense to Mark Essen's hustling skills) specimen of "video games", there is always a tinge of condescension present towards the medium itself. That, as Phil pointed out, the game's virtues are purely aesthetical and it might as well have been someone's motion graphics project.
I'm inclined to agree on this point.  To really understand video games you have to talk about engagement and interactivity.  Vogel's failure to do so underscores the reality that those are still dirty words amongst the more traditional art community.
Update: The above statement was poorly considered and is retracted for that reason.  Toastie thinks this video game is average and doesn't deserve the praise, while Fish complains that the art praise doesn't contextualize the game properly (he clearly defines art as implicitly valuable).  Both commentors make good points, though certainly the graphic aesthetic has more merit than either seem to think.
More discussion on how the game is actually played would be beneficial on the message board and Vogel's piece.   A user has to accept a very simple game structure to appreciate its merits.  Surprisingly, I've found that task harder than I would have thought; I am more distrustful of nostalgia than I knew.