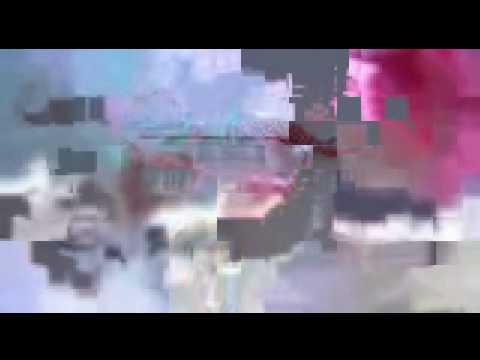 Artist Tom Moody gives the above Paul B. Davis video a thumbs up, with the following rationale:
Davis's process (called "Data Moshing" by some and also seen in some recent pop music videos, although Davis did it before they did) adds some much-needed ambiguity to the Cremaster series' rather literal, theatrical surrealism. Data moshing is all about strange, temporal shifts and it's creepy, for example, to watch a cat-creature emerge suddenly out of a cloud of frozen Barney-pixels in the Davis version. As with the analog-scrambled porn channels one might have encountered surfing around the TV dial in the 80s and 90s, you tend to look more closely at what you think is there. The imagination can supply prurience or horror but Barney is the type of artist who likes to do all the imagining for you.
To be fair, I don't have a problem with Barney doing all the imagining for me — a lot of art asks for a passive audience without lessening its value — but I agree that the introduction of abstraction to this work is part of what makes it interesting.  Past Moody's apt description of "what you think is there" as a point of engagement, Davis' manipulation seems particularly appropriate, given Barney's representation of body modification.  Why shouldn't the medium collapse just as insidiously as the body?
Although perhaps an easy observation, I also like that the Rainbow Bright palette fails to flatten the original work. Davis reflects elsewhere that the artist as cultural editor has significant limitations, and the manipulations themselves were flawed because they meant to suggest pop culture content didn't matter.  "But it did matter" the artist laments, "no matter how haX0r3d the compression codec was and hence how messed up the picture on the wall looked."
I don't want to give five hundred empty re-presentations of canonical culture currently being made the green light, but some of it has merit beyond mere manipulation.  For the reasons outlined above, this video is one of them.