Andy Warhol, Campbell's Soup Cans. 1962, Synthetic polymer paint on thirty-two canvases, Each canvas 20 x 16″ (50.8 x 40.6 cm). Image via: MoMA.org
Would Andy Warhol rule the Internets if he were alive today? Based on his celebrity status alone, most people would say yes, though it begs the more compelling question of what, exactly, he would be doing. I talked to a few friends on the subject, and together we came up with some guesses. The results below:
Andy Warhol and Add-Art's Steve Lambert Face off!
Andy Warhol would not get along with Steve Lambert, the artist behind the Firefox extension that replaces ads with art. Were Warhol alive, I suggest he'd respond to Lambert's add-on with his own extension.  His would selectively replace content with ads culled from a giant online database. The Internet needs more Campbell's Soup Cans.

Andy Warhol, Self Portrait
Fake Andy Warhol
Warhol impersonators would be much more plentiful if the artist were alive — he might even be drowned  in versions of himself!   A friend of the artist would run his Twitter account, answering his followers questions with only yes or no responses, as he did in the sixties.  Micro-celebrity expert Rex Sorgatz would be stuck with the Twitter account he currently has under the artist's name.
Editor's note: There are currently seven Warhol accounts, including an inactive, (and protected!) Andy Warhol Museum feed.
Andy Warhol & Snoop Dogg BFF!!!!
Both iconoclasts in their own right, would Snoop and Warhol be partners in porn?  Snoop's a little more heterosexual than Warhol, but I think they'd get along well.  Warhol could put many of his young hot hangers on to good use– a niche market likely to challenge Joanna's Angels.  In the name of art, none of Warhol's porn stars would get paid. The artist would be extremely wealthy.
The Andy Warhol Fan Page
Andy Warhol is *so* Web 2.0.   Warhol's fansite would include embeddable Youtube videos, a live Twitter feed and links to numerous websites the artist maintained.  He wasn't known for keeping the best records though, which would likely make running an editions website next to impossible.
The Andy Warhol Wikipedia Page????
If you think the Andy Warhol Wikipedia page is big now, imagine what it would be like if he were alive.  Britney Spears would have nothing on this artist!  His page would be frequently shut down due to vandalism.  Artists Nathaniel Stern and Scott Kidall would create a separate Wikipedia entry about how the page itself was art, but Wikipedians would shut it down.  Myartspace's Brian Sherwin would follow up the project on his blog by posting an interview between the two of them.

Julia Allison's contemplates the computer.  Sexually.

Microcelebrity as Artistic Inspiration

Naturally, Warhol would make prints and films with the biggest cewebrities.  The question is, would he make prints out of Julia Allison's face or her tweets.

Image via: gettyimages
Warhol's Database
Known as a compulsive collector, Andy Warhol would have his own extensive image database rivaling Getty Images.  It would be filled with pictures of shoes, cats, flowers, butterflies and homosexuals.
Facebook
Duh.  Warhol's Facebook page would be full of pictures from the Factory, celebrities and himself.  Naturally, he would be tight with Madonna.  Links to Style.com and Vogue would litter his page.  Andy Warhol would be a fan of Apple Inc.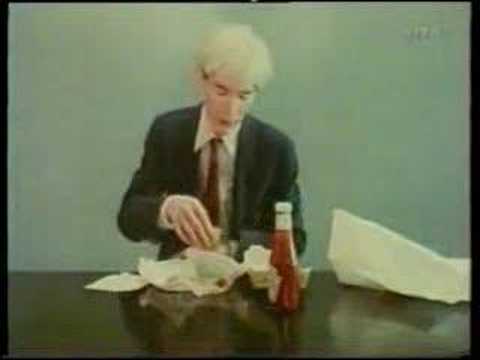 Youtube Mash-ups, Screentests, and Cheeseburgers
Warhol made music videos later in life employing animation.  Were he alive, he would be making mash-ups, creating Youtube Screentest channels and eating cheeseburgers.   The web community emerging out of, and contributing to, his creative output would build their own social networking tools to facilitate drug trafficking.
"Tell us where you are and we'll tell your friends where to find you" sums up the functionality of this new social networking application.  Warhol would undoubtedly use the app to meet up with his peeps, though he'd have to compete with Art Fag City for the Foursquare title of  "Mayor" at the New Museum.  We're Foursquare's top visitor at that location.
Editor's note: Thanks to Noah Fischer, Saul Chernick, Peter Zimmerman, Karen Archey, SS, and JB for their contributions.