Laura Parnes, Blood and Guts in High School, 2004-2006, video installation, 40:00
Observing a curatorial echo chamber privileging appropriation and conceptualism, art critic Jerry Saltz made his own list of artists engaging the plastic arts after 1999.  The writer selected nineteen women and fourteen men — thirty-three in total in keeping with the Younger Than Jesus triennial — none of whom have been in a Whitney Biennial (with three exceptions).   We consider this a challenge and respond with our own list of artists.   The selection reflects our desire for a better integration of conceptual and material-based practices.  We also remained dedicated to showcasing artists emerging after 1999.   This is the third in a three part post. Read parts one and two.
Laura Parnes, Blood and Guts in High School, 2004-2006, video installation, 40:00
Born in 1968, and a participating artist in the 1997 Whitney Biennial Laura Parnes appears an unlikely candidate for our emerging list. And yet, she does not have the robust exhibition history one would expect for an artist with her talent. In fact, we believe she is amongst the most underrated artists working today. The above still comes from her 40 minute video Blood and Guts in High School, a video interpretation of punk-feminist author Kathy Acker's 1978 book by the same name. Mirroring the structure of a novel, Parnes creates video chapters which she brackets with news events during that time the book received notoriety. Her work often exhibits a subtle, dark humor.

Artur Zmijewski, BEREK DVD,1999, master Betacam, 3'50"
Here's the tip of the Zmijewski iceberg: there are naked Polish people running around in a Nazi gas chamber in the still above, he taught deaf kids trying to sing, and re-tattooed concentration camp numbers on Holocaust survivors while videotaping all of it. Artur Zmijewski has the uncanny ability to push the boundaries of taste to the nether-regions of ethics, and manages to evade the voyeuristic with his intellectual sensibility.

Claire Fontaine, They Hate Us for Our Freedom, 2008, Burnt matches and smoke, dimensions variable.
We keep hearing that the artist collaborative Claire Fontaine borrowed their namesake from a common brand of French stationary, but we hesitate to think this tidbit informs their work at all. Hardly appropriation artists, Claire Fontaine dives head first into fiercely political subject matter with occasional nods to their art historical predecessors.

Garth Weiser, Drawing #7, 2008, Acrylic and gouache on paper, 36 x 26 inches. Image: Casey Kaplan
Garth Weiser's deceptively minimal paintings offer self-contained lessons in the history of painting. His work comes ornamented with pedagogical gradient scales, direct textural applications of paint, and geometric grids, signaling the warring coteries of Expressionist and Formalist painting. Weiser's use of enamel borders offer trompe-l'oeil-esque shifts in perspective, appearing as if the grid is collapsing or breaking down.

Dana Schutz, Presentation, 2005, oil on canvas, 120 x 168 inches. Image via: Zach Feuer.
We don't understand how Dana Schutz has been excluded from the Whitney Biennial thus far, particularly given the quality of her paintings and her high profile status. Employing a Fauvist palette, the artist imagines strange narratives she renders in paint. The figures are often disfigured in some way, and in her latest work they are literally eaten away by black pattern. Despite story lines that sometimes suggest violence and mutilation, the figures themselves typically seem unaware, complacent or an unaffected participant in these acts.
Wynne Greenwood and K8 Hardy, The New Report, Image via: Wynne Greenwood
We're not sure how to classify the aesthetic of the New Report, but it's definitely unique to K8 Hardy and Wynne Greenwood. The New Reporters don berets and turtlenecks as tongue-in-cheek renditions of late Modernist artists, and set their show against a colorful, cut and paste style film set.  Informed by 2nd wave feminist video, Hardy and Greenwood's playful newscast successfully utilizes a constellation of political and artistic references.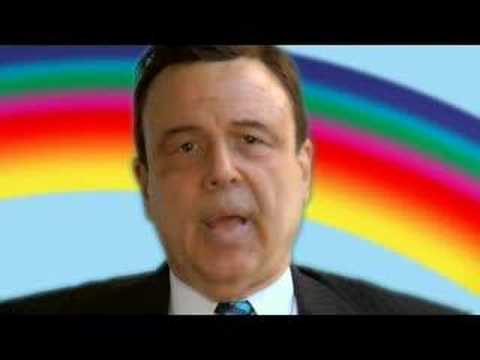 Ben Coonley, NYUFF Trailer, 2007
We first discovered Ben Coonley's art when we witnessed his defeat at The New York Underground Film Festival's TubeTime, a competition asking participants to pit their best youtube finds against one another. Ironically, Coonley lost to his own video, when his opponent John Seroff lodged Valentine for Perfect Strangers against his own find. The following year, Coonley made the above video for NYUFF. The perfect spokesman for the New York based film festival, skin care specialist Dr. Zizmore remains famous for his low budget subway advertisements. The video is one of our favorites to date.

2nd Cannons, book publisher. Images via: 2nd Cannons website.
We're fans of pairing zombie movie stills with Ad Reinhardt paintings, reproducing Abstract expressionist paintings in black and white (but providing the color key) and most importantly, culling selections from the massive 450,000 17th century philosophical text, The Anatomy of Melancholy. We've had that book in our office for years and still haven't managed to work our way through it. 2nd Cannons earns a spot on our list for their ingenuity and inventiveness in publishing.

Kris Martin, As a Matter of Fact, 2006, chiselled writing, 6 x 98 1/2 inches. Image via: Johann Koenig
Often pulling from encyclopedic and literary sources, Kris Martin's body of work vacillates in medium and always rings as poignant. Martin examines issues of time, terminality, and intellectual labor by coupling banal objects that, when paired, achieve a new, critical meaning. Rife with intellectual consideration, Martin's work is most rewarding to the patient viewer.

Delusional Downtown Divas, video still from episode two, 2008. Directed by Lena Dunham, Starring Joana D'Avillez, Lena Dunham, & Isabel Halley. AFC coverage here.  Episodes at Index Magazine.
"Three art brats with big dreams" reads the Delusional Downtown Divas tag line, a parody of young rich kids, played by actual rich kids. The program couldn't be more hilarious. The early 20-somethings force their way into an opening for a feminist collective going by the name "Mountain Don't," and in another episode, the offices of Isaac Mizrahi. The girls pepper him with questions about the meaning of life, only to learn he thinks it has something to do with signature looks. Roughly translated this means, the designer thinks fulfillment comes from doing what you love.

Jonah Freeman and Justin Lowe, The Meth Lab, 2008. Exhibited at The Station in Miami during Art Basel. Image: AFC. Read the full Station review here.
Inarguably the Station's showstopper, Jonah Freeman and Justin Lowe's fake meth lab represents the most detailed and labor intensive installations I have seen in recent memory. Appropriately discrete, but for a small label very little indicates the entry leads to art. The piece demands the curiosity of the viewer. It also requires a strong stomach; the putrid smell emanating from the lab could probably kill small rodents exposed for long durations. Piles of empty Sudafed boxes lay on a table; the kitchen, behind glass, is filled with tubes and containers; and the upstairs is a mess of exposed broken walls, and shelves. Gritty and disheveled it all leads to a balcony with a pristine view of the city. Having spent a week in Miami, I can safely say the cityscape was no prize, it's beauty now merely representing the same depravity of those that prey off addiction.