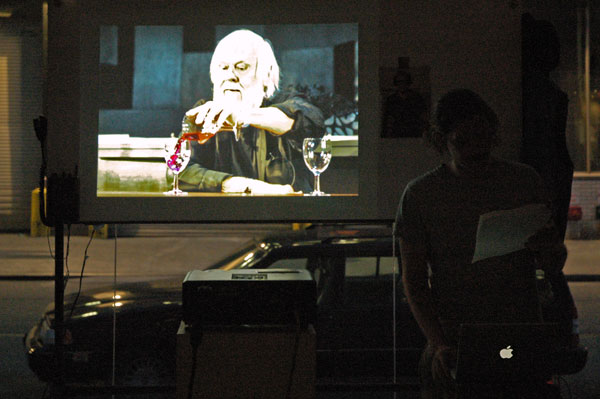 A member of the Bruce High Quality Foundation speaking at their lecture Explaining Pictures to a Dead Bull, July 30th. Image via: James Wagner.

In my latest column at the L Magazine, I discuss the term "too professional", and how it is applied in MFA programs.  The teaser below.
What does it mean when someone calls a creative practice "too professional"? It depends who you ask and which practice you're discussing, but half the time, I don't think people know what "too professional" means.
According to art critic Ed Halter, the term implies that an object is "too perfect or finished," though he also notes that its inverse, amateurism, receives criticism for seeming "too sloppy, or not finished enough." Knowingly creating objects that are "too perfect or sloppy" as part of a conceptual practice may sidestep these problems, but as Halter notes, this maneuver may then be criticized as "too studied." And these judgments do not always latch onto an artist's entire body of work. Sometimes, an artist will receive each criticism at various points in his or her career. Much to his chagrin, I'm sure, artist Cory Arcangel has created work that has been labeled "too perfect" (his photoshop gradient prints), "too sloppy, or unattractive" (his Nintendo cartridges — although admittedly I hear this the least), and "too studied" (his intentionally ugly "dirtstyle" websites).
To read the full piece click here.