POST BY PADDY JOHNSON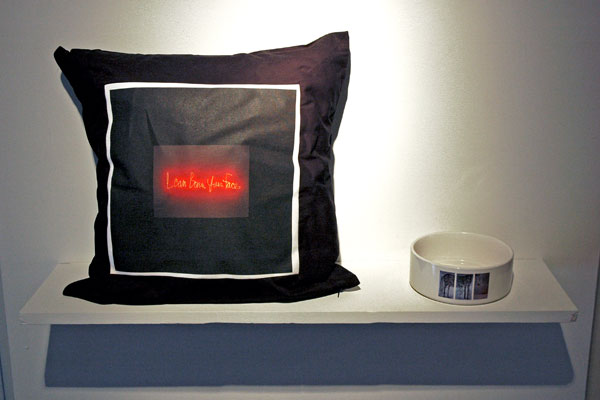 Paddy Johnson Jill Magid I Can Burn Your Face, 2009 custom pillow 18″ x 18″ x 5″ and Iliyan Ivanov, Apocalyptic Unicorn 2009 stoneware pet food bowl 2.5″ x 6″ x 6″ each edition 1 of 3 [installation view]
Thanks to James Wagner for his complimentary write up of the Hogar Collection show I participated in this month, Scarlet Fever. Of my burn-your-face pillow and apocalyptic unicorn trough he writes,
…In a modest and wry way it seems to pull together (or finish off) so much of what has been described as the leading edge in the art world over the past decade, in art both material and conceptual.
I am completely flattered.
Editors note: This piece is indebted to the curated project by C Coy and Marisa Olson's Forms of Melancholy and of course, the countless teenagers making truly amazing crap on Cafe Press.