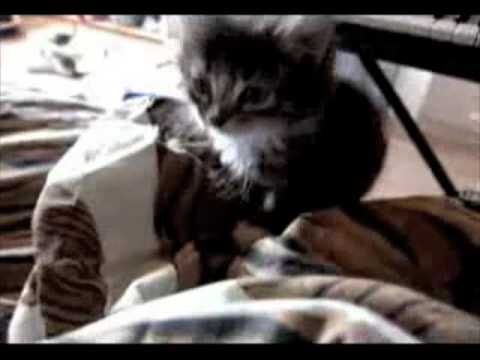 I watched Cory Arcangel's Schoenberg's Cats video again Tuesday at The Power Plant's summer group show, Adaptation Between Species, and was reminded of how little I've engaged in the discussion of that piece. According to exiting Senior Curator Helena Reckitt's wall description, Arcangel's youtube mash-up uses the cats to make fun of the "my kid could paint that" criticisms of avant garde art. Once hated by the Nazi's, Schoenberg's a-tonal piece now revered sees uneven acceptance by the elite music establishment. Though interesting, this isn't essential knowledge to "getting" the video, which basically runs with the punchline "Even random cats walking across a piano can remake this famous noise piece. Ha ha!" "Nazis would love this" is just an added chuckle.
What's missing in Reckitt's description is a contextualization of this work relative to the lectures on the internet's flattening of visual material presented by Arcangel and partner Hanne Muggas. These lectures are mostly the tedious experience of watching Arcangel pretend to surf badly and draw the following point from Muggas' curated list of videos: The internet speeds imitation and renders repetition transparent. Um, duh.
Needless to say, I'm not a fan of this work or the cats. The video's funny enough, but it stands a little too close to like-minded internet projects whereby a knowing cynicism accompanies the joke. Arcangel's piece removes the careerism, but maintains a whiff of This-is-Why-You're-Fat-self-conscious-emptiness in the place of real content.