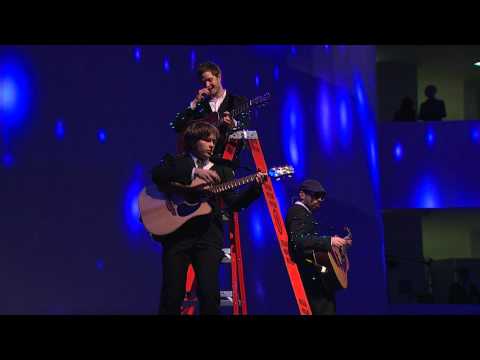 Looking for something to do tonight? Of course not — you live in New York (or you don't) — but I'm going to add to the to-do list regardless. Some events to check out:
The Guggenheim/YouTube collaboration Play. 9 pm through midnight
The youtube video of OK Go at the Guggenheim last night gives me the willies. These guys are the 2010 answer to 90's sensation Hootie and Blow The Fish. I feel like MTV took over The Guggenheim. Anyway, if you want to see the museum transformed into a Times Square wonder of light, that was last night. Tonight they're hosting After Dark, which sounds like it should be the same thing, but according to the press release is an open bar and an artist selected (video?) playlist. This means an a couple educational/promo videos no one will be able to hear, and selections from Play.
*************
319 SCHOLES PRESENTS DUMP.FM IRL
Curated by Lindsay Howard
dump.fm gets a show and it launches tonight from 7:00 pm to 1:00 am. I don't know if I'm going to last through 1 am, but I'll be there. From the press release:
dump.fm is an image-based chat room for real-time communication. Founded in November 2009 by Ryder Ripps in collaboration with Scott Ostler (of MIT Exhibit) and Tim Baker (of Delicious), dump.fm serves as a platform for artists who use its technology to foster community and creativity. IRL brings together dump.fm users from all over the world (many of whom will be meeting "In Real Life" for the first time) to offer an alternative to the traditional 1:1 experience by translating the liveness of dump.fm into a visual confectionery through collaborative participation in the physical realm. Look for caves animated by psychedelic GIFs, web-based performances with interactive webcams, architectural renderings of virtual property, and audio-visual recompositions that return images to the social networks and digital systems from which they emerge.
OPENING RECEPTION
October 22, 7:00pm-1:00am
Participating artists include: Francoise Gamma, Jeanette Hayes, Felix Lee, Tom Moody, Stefan Moore, Scott Ostler, Arran Ridley, Ryder Ripps, Erik Stinson, Duncan Alexander, Michael Francis, Agathe de Trémontels, Sterling Crispin, Justin Strawhand, Tim Baker, Joel Cook, Lucy Chinen, Jude MC, Andrej Ujhazy, Dylan Fisher, Jamie Rockaway and Matt Torti, Chris Shier
*****************
Also, hello Marian Spore Autumn Party. The podcast people will host their event with Marina Zurkow and The Plug from 8 pm to 11 pm. Also, performance by Joyce Kim with Katharina Stenbeck and Greg Henits! Further, um, LUCKY DRAGONS will play Monday Nov. 8th at 7:30 along with Marina Rosenfeld and Christof Kurzmann. The evening is Presented by LMAKSeries and Marian Spore in partnership with Issue Project Room
They're at We are at 55 33rd St., 4th Floor, Brooklyn NY 11232.