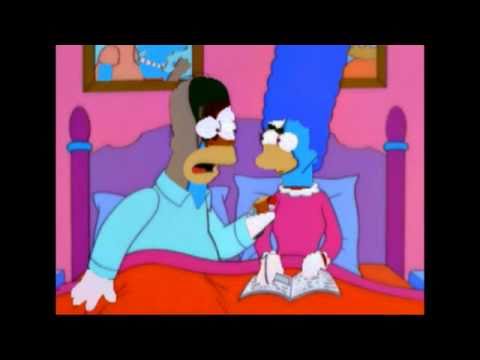 Abstraction has a difficult row to hoe on the Internet. It's harder to tag non-representational with key words, which in turn means Google has a tougher time knowing what to do with it. Also, while Internet users love taking pre-existing material and turning it into something a little more abstract (see the video above), they rarely use pre-existing abstract material as source material. In short, representation is its own distribution.
I started thinking about this today, when I began to wonder why the video above — the most abstract in a series of videos of Simpson collages by Shane Duarte — had the most views despite being the most visually complex and musically difficult. Surely, the more melodic Tungsten Baby should have a few more views?
The answer to this question as far as I'm concerned is anomaly.  The Lynchsons (not racist) [above] was the first video linked on Metafilter back in June, and the artist hasn't had a link from a major site like that since. Generally the Internet prefers rhythm and representation.
Still, I am forever plagued by the Rashaad Newsome discussion the blog hosted back in May, whereby most commentors concluded that collages such as this can't lead to substantial work. The Lynchsons goes farther than most, but I'm not sure there's much of a message here. Is that a problem because we no longer value abstraction as much as we used to, or simply because this way of working is a dead end? I don't know the answer.