I'm no authority on hip-hop, but there's been a tremendous overuse of "#swag" on Twitter in the past year. For those who are unfamiliar, "swag" is short for "swagger"­—meaning that one possesses an admirable demeanor or cool. Justin Bieber says it seven times in his latest single, even going so far as to say "swaggy", which some music journalists take as a sign that swag is now dead. Bieber's use of "swag", though, is no accident; the superstar is signed to a loaded recording venture between hip-hop star Usher, manager Scott "Scooter" Braun, and Island/Def Jam Records, each of which have a direct hand in polishing his image. It's one of many ways the language of hip hop is moving into Western youth culture.
Cultural studies has established that suburban white kids love hip hop in a complex manner; heaps has been written on aspiration, colorblindedness, misogynism, emulation, and subordination. But just what makes hip hop so appealing to net artists? Instead of passing off any attempt to indulge in hip hop as a 1:1 relationship between appropriation and mockery, I'm interested in looking at how different artists incorporate hip hop in their artwork to talk about themselves.
Before You Use The R Word
Anything, by and large, can be art. After Duchamp and Fluxus, the most marketable contemporary artists get away with animal cruelty (Damien Hirst), buying unusable property (Gordon Matta-Clark), and sexual "exploitation" (Laurel Nakadate).  Art about race and racism, though, is a territory that's not immune from moralization of the artist. In a recent Jezebel post discussing ongoing blogosphere uproar over "hipster racism", Lindy West argued that:
lightheartedly joking about something that draws attention to someone's race is still a racist gesture, e.g. "I know that you know that this joke about using chopsticks to noodles is SO Asian would be racist in the past but we're past that because I know that you know that I'm just kidding!"
when white people (or any non-black person) mimic aspects of hip hop culture they are being racist, because they are intentionally mocking a Black gangster stereotype to subordinate them.
I can agree with the first claim. Sorry that I'm not sorry; it's not productively funny. But according to the logic of mimicry that West described in the second, diasporic acts like Die Antwoord and Das Racist would be considered racist although they use the vocabulary of hip hop to critique the genre. Prior to this, the defamation Jack Early and Rob Pruitt received for satire of White co-optation of Black music in Red, Black, Green, Red, White and Blue's first installation reflected kneejerk social discomfort with non-Black commentary on Blackness in the media. So non-Black desire to be Black in mannerism is something that is awash in the media and everyday slang, but unspeakable in public.
Black artists are also not free from criticism from accusations of ghettoizing their own culture. A recent performance of Blackface cakecutting that was orchestrated by Afro-Swedish artist Makode Aj Linde invoked criticisms of racism and sexism against Black women from mainstream news reporters and scholars. Enacted at a World Art Day celebration, the Swedish prime minister partook in cutting the nether regions of a cake in the shape of an African woman's body. Positioned at the head, a cosmetically exaggerated "Blackface" performer screamed while the Swedish Prime Minister cut the cake. Makode Aj Linde intended for the performance to draw awareness to female genital mutilation, but the social response to the event revealed the hypocritical power relations between Black artists and institutions. Black artists can talk about White stereotypes and treatment of Black people in a historicized manner—as a historicized discourse—but a satirical re-enactment, however empowering, is morally questionable because of its potential for literal interpretation.
The first artist to come to mind now when you mention hip hop and contemporary art, Hennessy Youngman, is black. Ridiculing the lofty whims of museum art in the form of the talking-head YouTube video, Jayson Musson's persona credibly lives up to the white fantasy of the "gangster" stereotype. However these assumptions are unseated by how acutely he can talk about academic art with street language. This tactical performance is known as strategic essentialism: performing a stereotype to disrupt existing ideas of them.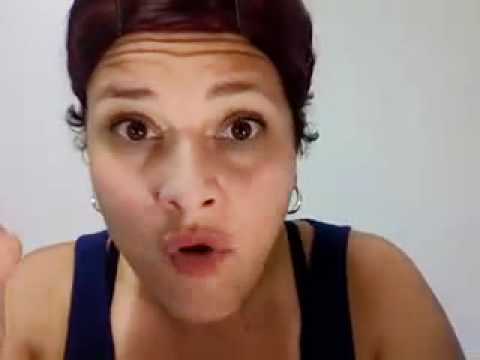 Hennessy Youngman, though, was not the first to use this tactic online. Chuleta (Wanda Raimundi-Ortiz) started doing gallery walkthroughs and art rants over a year before Youngman's debut on YouTube, but failed to receive the same acclaim. Chuleta's experience demonstrates how distribution on oh-so-democratic online platforms alone won't necessarily make the common person famous. In fact, certain performed stereotypes are more fancifully validated by the art world for their potential to be ironic and funny for white gallery-going audiences.  (Recall Kalup Linzy, Vaginal Davis, or Rashaad Newsome­—all young, tokenist, intersectional queer Black artists who are often included in your typical survey show of American contemporary art!) Conversely, dissent from a bitching "ghetto Latina" stereotype might appear less palatable to audiences unfamiliar with hip hop.
The R Word
Geek culture and mainstream hip hop have two things in common: both are fairly male-dominated, and both are rife with misogynism. Some obtuse comparisons between net art and rap music could be best summed up by Absis Minas:
If any correlation at all can be drawn between the aesthetic sensibilities of early hip-hop and that of the burgeoning web 2.0 art community, it's a surface one… both are small-scale, inclusive, and therefore both subject to a certain amount in-group bickering used as (and not in lieu of) artistic content…it would be a lie to say that the world did not find entertainment in the perpetual squabbling of individual rappers…it would be a larger lie to say that the world knows enough about it to bother caring.
The biggest critique of emerging net art so far is its insularity and abundant callow content. The immediacy of sharing art on social networks creates an environment of creative competition where artists keep trying to outdo each other by making the most reblogged one-liner artworks with the newest technologies.
This shouldn't be surprising. From the advent of photography to the rise of online video, each challenge to art's craft and authorship has caused it to become more self-referential. Net artists realize they are making work that's seen by audiences with highly specific knowledge, so self-reflexivity, or a conscious extra layer of reference to one's position, is a common tool.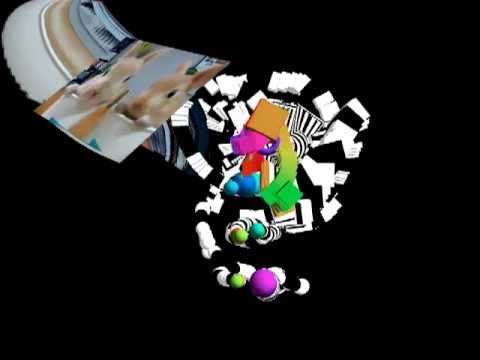 For White artists working with hip-hop, this self-reflexivity is often used to address taboo. Jeremy Bailey's practice, for instance, toys with stereotypes of the "famous new media artist." In a livestream performance for a Nam June Paik retrospective at the Tate Liverpool, Bailey mocks masculine authorship by claiming to be the first to perform for a computer in the lineage of Nam June Paik, the father of video art. Hacking a Kinect to erase his own skin colour, and motion tracking his limbs with coloristic, augmented shapes, Bailey becomes a bodiless and raceless subject–a virtual body-sculpture performance. His performance addresses disjunctions between white nerd computer culture and the carnal aggression of Lil Wayne's "Drop the World". As Lil Wayne declares "Imma pick the world up and imma drop it on your fucking head," Bailey's bodily assemblage explodes, collapses, and disperses across the black space of the screen. A rotating image of bikini babes replaces hip hop's formulaic video girls.
In a similarly self-deprecating performance, Jaakko Pallasvuo casts his queerness as out of step with the prototypical images of the "art-fag celeb" or the nerdy new media artist. In Vanilla (2011) an audience claps to the beat as Pallasvuo dances hideously to "Drop It Like It's Hot", rubbing vanilla ice cream over his face and body. It's important that he's doing this six years late; the song was hot in 2005, and here bad taste in performance meets bad taste in music. In both Pallasvuo and Bailey's work, the absurdity of self-deprecation invokes humor, which lets viewers laugh at the artist's self-imposed embarrassment. The same mechanism also inoculates the artist from accusations of offensiveness or irrelevance.
Swag Overload
Not all artists opt for the protection of self-reference; some direct their irony outward. Glasspopcorn (Will Neibergall), whom ArtINFO has questionably called "the Art World's next Justin Bieber", describes himself as an "international superstar tween rapper" on his Tight Artists page. He's fifteen and net famous because he is friends with Ryder Ripps and hangs out on dump.fm a lot. In line with Bailey and Pallasvuo's methodology of satire, Glasspopcorn's songs "swag face" and "Ed Hardy" recite "swag" to the point of overkill. In "swag face", he consciously mocks White mimicry of mediated Black coolness, while "Ed Hardy" works as a fanatic yet repetitive homage to the lowbrow fashion and footwear line. Jeremy Bailey and Jaakko Pallasvuo are performing self-mockery by instantiating failure to belong with rap culture, but Glasspopcorn appears as pure mockery of Black and white gangsters.
While Neibergall might struggle with viewers taking him seriously as a young artist performing in the shadow of Bieber, CBS and ArtINFO didn't see a problem with him rapping while a plus-sized Black woman crawled around on stage at his first public appearance at Ryan Trecartin's PS1 opening. She might feel empowered, and undoubtedly consented to perform, but without the inoculation of reflexivity the performance looks pretty racist and sexist—not to mention sizeist. Besides Glasspopcorn's youth, there's little in his performance to actually challenge the "lurid masculinity" he claims to see in mass cultural products like Monster energy drinks.
Going Shallow
Often, references to hip-hop in net art are self-reflexive without being ironic, and that self-reflexivity acts as a cloak for channeling profoundly personal attractions to Black swag. For example, Robert Lorayn's stacking videos demonstrate a skilled transformation of gang signs into dance motions with his hands. Eventually none of the gestures look like gang signs, and none of the music he "dances" to is hip hop.
In the work of Ann Hirsch (scandalishious), confused reflexivity plays out in exaggerated ways. Performing extremes of her personality that volley between sweet and moody, awkward and sexy, Hirsch's dancing camwhore videos discuss the paradoxes tied to women's sexuality on the internet: Camgirls are both lauded for their sexiness and denigrated for stupidly exposing themselves. Appearing as an alter-ego named Caroline Benton, who makes confessional vlogs and dance videos, Hirsch infuses the camgirl with humanity and quirk by dancing for the webcam in domestic settings. Whether "exploring the dark side" to witch house in her bathroom or rocking her hips to Snoop Dogg's "Sensual Seduction" in her kitchen, Hirsch mimics the camgirls, but also delights in the dancing. Her self-consciously sexual dancing is awkward, but also self-satisfied. Similarly, in the work of Mary Rachel Kostreva, dance expresses performative pleasure in urban music away from the club setting. When Kostreva makes videos of herself dancing to the intensely misogynist lyrics of Drake and Lil B with webcam filters, her engagement is sincere.
Kostreva, along with Adam Harms, started Tight Artists, a network which describes itself as "a community of trill artists going creatively ham on the net at all times", offering customizable HTML galleries and profiles for net artists. The network's only rule is "Don't hate".
In an email interview, Bailey mentioned that users enact a confused reflexivity when one sees their self-image feedback on a camera's video preview window. Perhaps the sense of interpersonal distance offered by online profiles allows users to feel more open to trying on identities they would otherwise not act out in real life.
The Pleasures of Hip Hop
Other times, artists approach hip-hop as themselves. Devin KKenny's Studio Workout Vol. II (2011), a collection of remixed songs, draws a direct line between artistic competition and hip hop culture, sprinkling its lyrics with truisms about contemporary art. KKenny highlights gaps between Black gangster culture and the professional practices of contemporary art, giving shout-outs to art critics while satirizing white male dominance in abstract painting and minimalist sculpture. Unlike Yung Jake's consistently ironic auto-tuned commentary on the trendiness of glitch in "Datamosh", tracks like KKenny's "Hard in Da Paint" sound like authentic confessions of the mediocrity of being an art student.
Mike Ruiz's Versions Freestyle, meanwhile, features the artist freestyling over Oliver Laric's Versions (2010) video essay. In the original video, a computerized voice garbles about the infinite reproducibility of images as versions of reality, while carefully selected diptychs of images and footage from popular media present similar actions and scenes to show how the image is vulnerable to appropriation and doctoring in the digital age.
Ruiz's cover, recorded from a computer microphone, is spontaneous and amateur, to the point of appearing to ridicule Laric's video. For Ruiz, however, freestyling is an homage that functions like sampling and remixing. His witty and incessant commentary throughout the nine-minute video demonstrates an enduring appreciation of the theoretical cruxes of the original. In an informal skype chat, Ruiz revealed he had been freestyling for fun in Austin since his teens, and found that Laric was also a prolific freestyle battler at parties in Munich. Instead of mocking swagger, the two artists share a genuine and apolitical affinity for hip hop.
Swag on Infinity
Black men's bodies and sexuality are all over the media. We have to admit we both love and fear ideas of the Black gangster. Black swag is fetishized, feared, appropriated, assimilated into western pop culture. It is hybridized, transformed and assimilated by users as subgenres, commodified as lifestyles and given meanings that have little to do with its history and politics. We feel alienated from rap and find the glamorization of drugs, bitches, and guns laughable; we find entertainment in what's Other to also be cool. The culture industry and the art world alike tend to reduce their talents to easily-digested archetypes.
My hope is that viewers become sophisticated enough to recognize these representations and to talk back to them. We should recognize that the line between co-optation and appropriation is very fine; sometimes, an artwork may be both. It's impossible to mark off a politically correct turf for commentary on hip hop without implicating our race and our intentions, and we should remember the importance of questioning the author's assumptions about race and class when we encounter a work with hip hop. In the case of Lindy West: a hipster does not a young white poor creative make, and hip hop doesn't equate to American Black culture.
Trying to preserve cultural sovereignty over hip-hop is a losing battle. Hip hop has become a diverse hobby for people around the world, and should be as open to cultural criticism as anything else in the public domain. When Ang Lee made Brokeback Mountain, he stretched and queered the archetype of the American Western; was he ripping anyone off? Users are seeing opportunities to play with language in the informal space of the web, and not all of it can be read behind a lens of "appropriation". Appropriation is what keeps the swastika from becoming a religious symbol again, but the next guy who does a Drake cover probably just likes the music.